THIS SUMMER VISIT METZ EUROMETROPOLE!
With your family, or on your own, curious, relaxed, gourmand or explorer, come for an experience placed under the sign of European lights this summer in the eurometropole and enjoy nature, water, heritage, cultural events and the French style of living.

This summer, the sun is shining on the streets and squares of Metz and the towns of the eurometropole with a rich programme of events: the Constellations de Metz festival, exhibitions at the Centre Pompidou-Metz, Hop Hop Hop in different towns in the eurometropole, the Mirabelle plum festival etc.
Complete your visit with the must-see sites:
the Cour d'Or Museum – Metz Eurometropole, Saint Etienne's Cathedral, the Porte des Allemands, Metz train station, Robert Schuman's House at Scy-Chazelles, the Gallo Roman aqueduct at Ars-sur-Moselle, the fortified churches of the Eurometropole's villages, the 1870 War and Annexation Museum in Gravelotte etc.
Discover the Centre Pompidou-Metz
For visitors hesitating between the Centre Pompidou-Metz and the Cathedral,
between modern and contemporary art and gothic architecture and Renaissance stained-glass...
Visit both
and find the rich culture and heritage of Metz Eurometropole.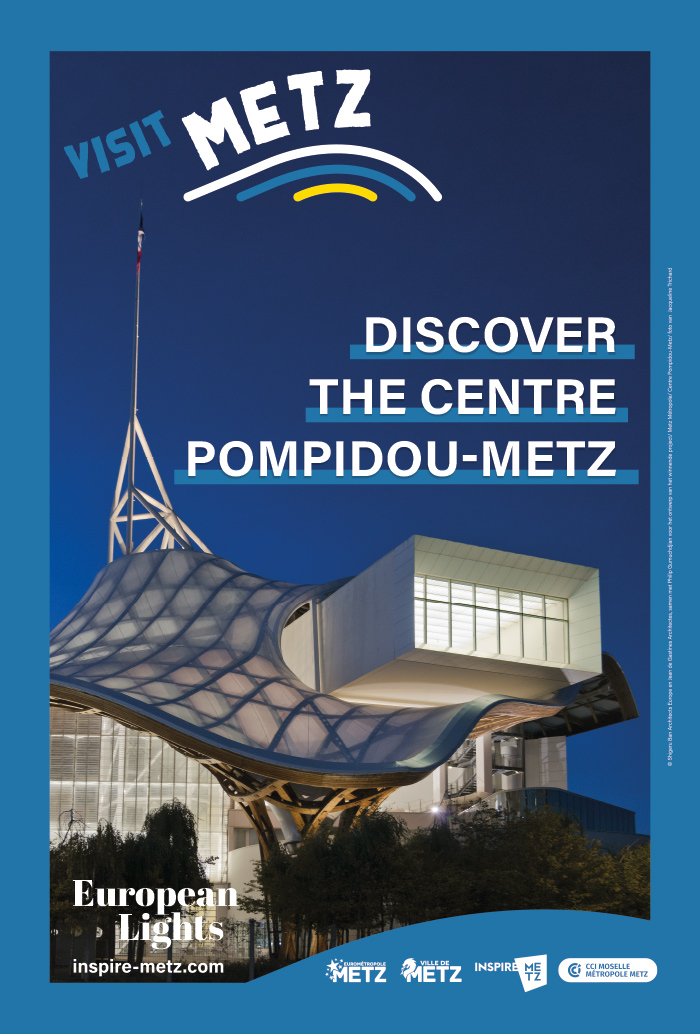 © Shigeru Ban Architects Europe et Jean de Gastines Architectes, avec Philip Gumuchdjian pour la conception du projet lauréat du concours / Metz Métropole / Centre Pompidou-Metz / Photographie de Jaqueline Trichard
Metz Eurometropole, the art of living!
On your own, as a family or with friends,
enjoy the restaurant and café terraces in the historic centre of Metz or the towns of the Eurometropole
. For gourmands, the laid-back, amateurs of the French life style or shopping...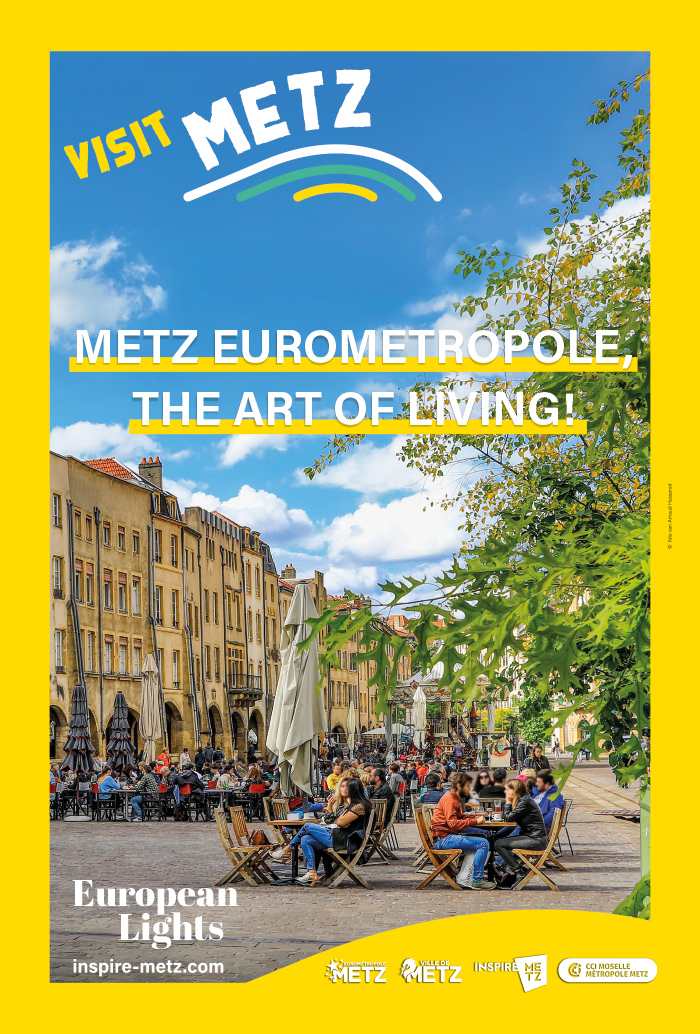 © Photographie de Arnaud Hussenot


A summer full of cultural events!
The Constellations de Metz festival is waiting for you throughout the summer (from 23rd June to 3rd September). Come for a cultural summer placed under the sign of lights that make the 45 towns of the Eurometropole shine.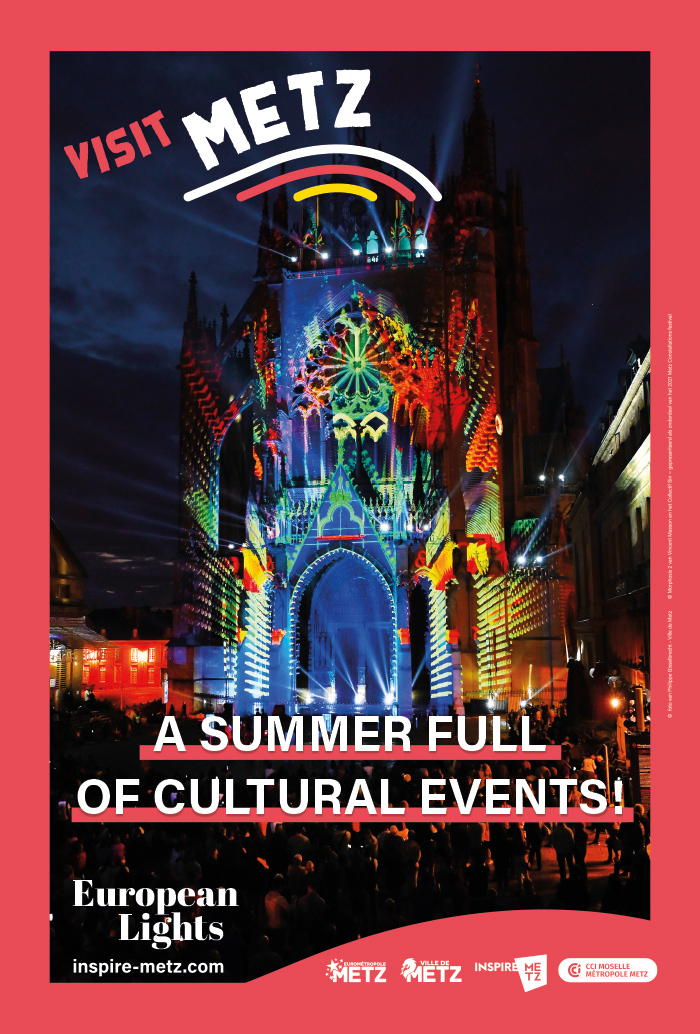 © Photographie de Philippe Gisselbrecht - Ville de Metz

Enjoy the banks of the Moselle?
More lights, playing with the reflections on the Moselle. For those who like nature and sport, visit and stay in Metz Eurometropole, it's the opportunity to take a boat or bike ride, to stroll or to hike. Discover the different green spaces and gardens, like the Jardins Frutiers de Laquenexy, the Jean-Marie Pelt – Parc de la Seille park, the plan d'eau lake of Metz or other places of relaxation to discover...
Introspective or sporty, follow the water, the hillsides or the streets, there's something for everyone.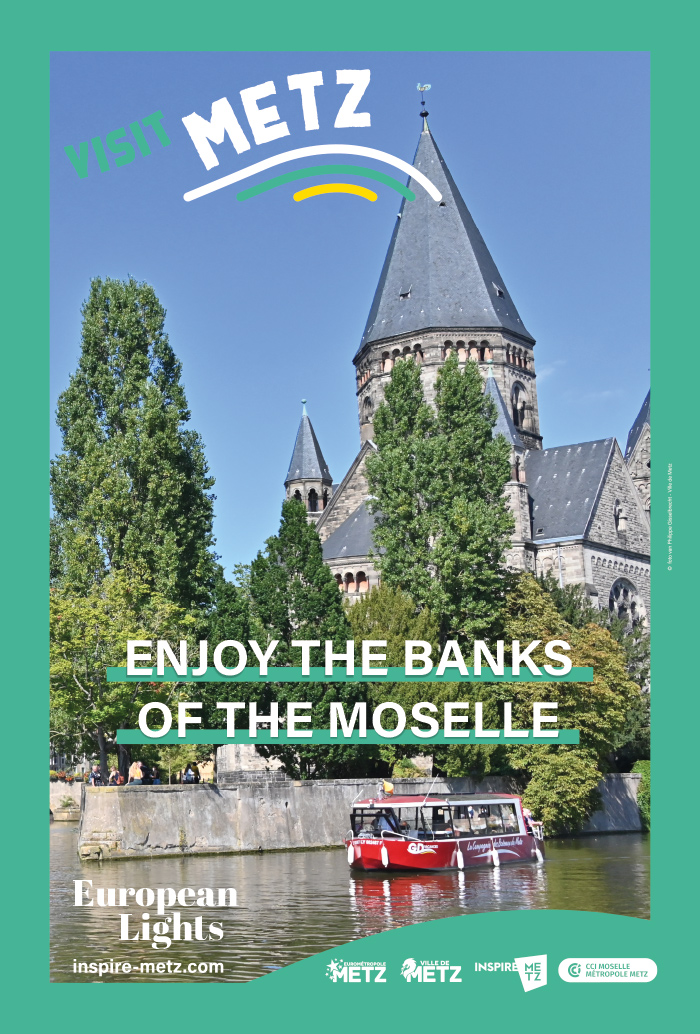 © Photographie de Gilles Baermann


From the 14th May play on the Inspire Metz – Tourist Office's Facebook page, you could win a "Constellations de Metz" break for two people, books or a City Pass. This contest, organized in partnership with the Citadelle Metz-Mgallery and the UMIH 57, will be offered on Facebook to all inhabitants of France (excluding 57)

To discover and stay in Metz Eurometropole, the agency Inspire Metz – Tourist Office offers visits and stays adapted for all tastes.

The agency is at your service on +33 3 87 39 00 00 or by e-mail : tourisme@inspire-metz.com